Our next polo match is scheduled for
Sunday, August 25th at 1:00 pm
Field and weather conditions permitting, matches are held each Sunday at 1:00 pm from Memorial Day Weekend through early October. 
On polo season Sundays, Tasting Room visitors are invited to join us fieldside to watch polo. Gates open at 10:00 am, matches are free, open to the public, and begin at 1:00 pm. Please visit this page, or our Facebook Page on Sunday mornings between Memorial Day Weekend, and mid- October after 9:00 am to confirm that we will be playing.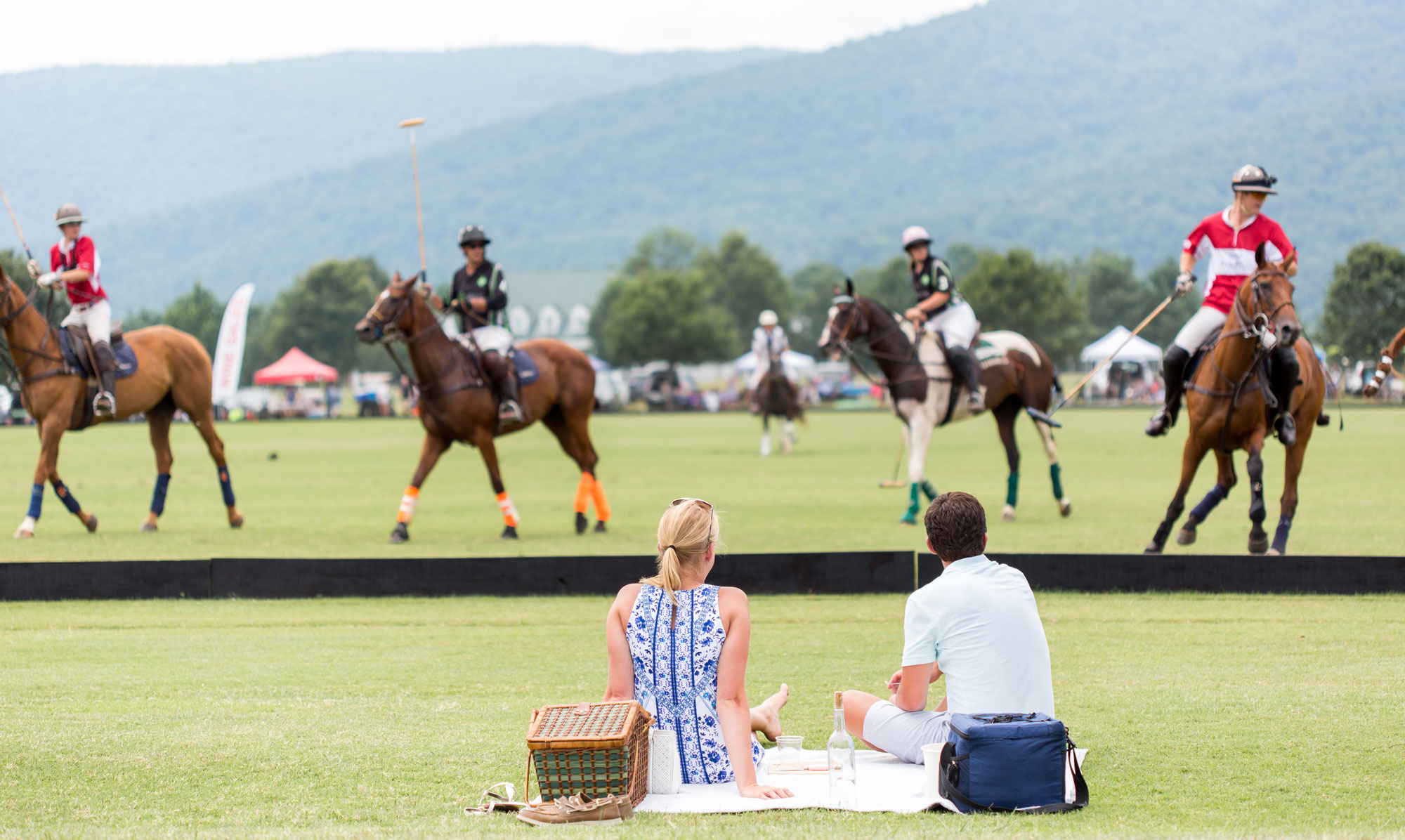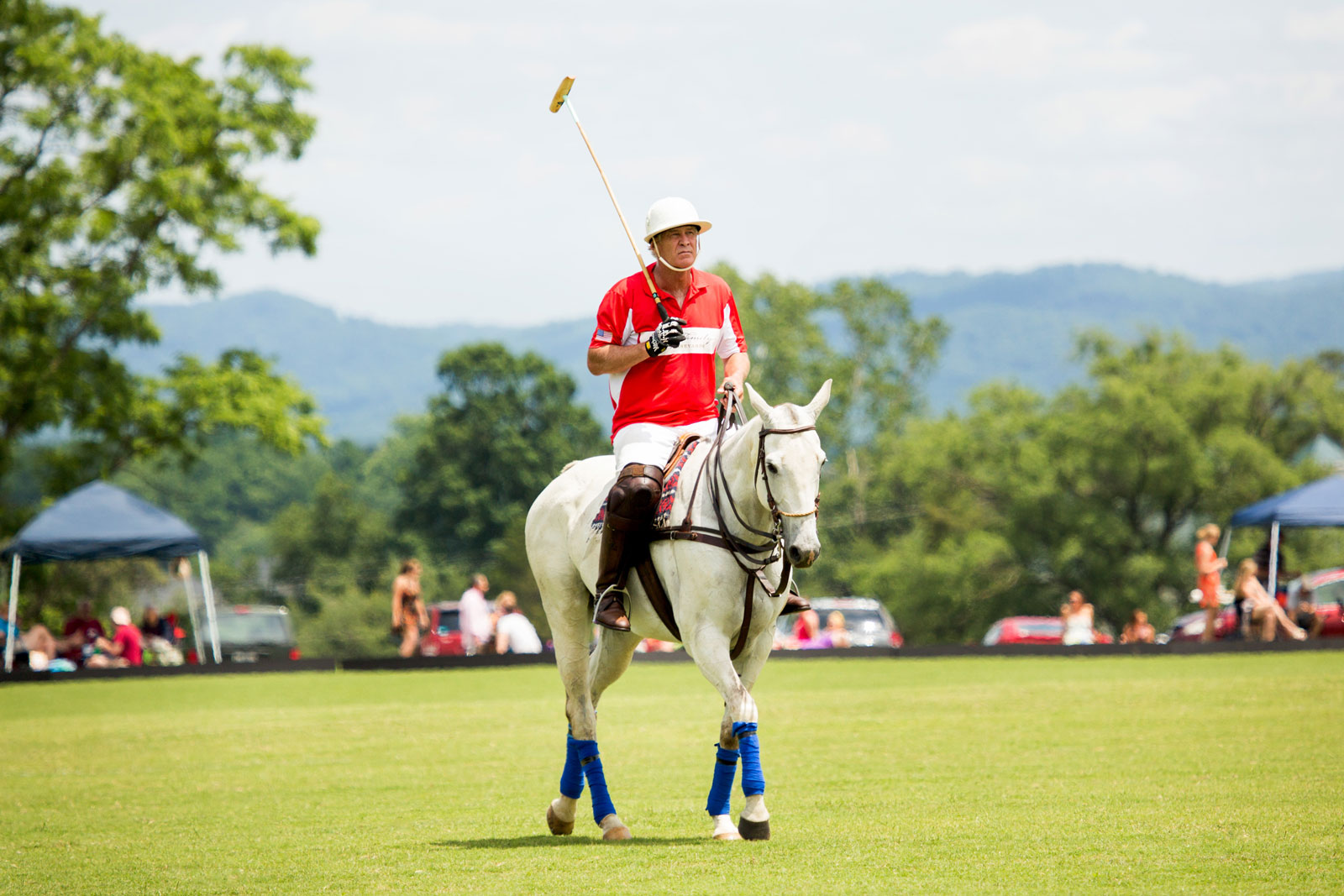 Why Polo?
After David & Ellen King moved to Virginia from Houston, Texas in 1995, their search for a farm had one priority; 12 acres of relatively flat ground for a polo field.  Vineyards and a winery were not even a dream at that point.
 
David King, one of the founders of King Family Vineyards, had played polo since 1980 and wanted a field and club to continue enjoying the sport.
 
The farm that now contains both Roseland Polo and King Family Vineyards fit perfectly into the family's vision: a country place where we could all live, work, and play.
Tips For Enjoying The World's Most Exciting Sport
Polo can potentially be a dangerous sport.  All guests watching polo must be aware of the location of both the ponies and the ball at all times during play.  Please stay at least 30′ away from the boards around the edge of the field as the ponies and ball can come over the boards during play.
Warning: Under Virginia law, there is no liability for an injury to or death of a participant in an agritourism activity conducted at this agritourism location if such injury or death results from the inherent risks of the agritourism activity.  Inherent risks include, among others, risk of injury inherent to land, equipment, and animals, as well as the potential for you to act in a negligent manner that may contribute to your injury or death.  You are assuming the risk of participating in this agritourism activity.
SPEED LIMIT: 10 MPH.  For the safety of children and other spectators, limit your speed to 10 mph and remain on the gravel road when entering and exiting. Please do not drive across the grass.
Upon arrival, park your car well behind the boards (50 feet or more). Vehicles are welcome to park "tailgate style" around the field. You may also park in the winery parking lot and watch the match from our patio. Please do not park your car on the grass around the winery.
Bring chairs, blankets and shade. Popup tents are permitted around the field, but not on the lawn adjacent to the Tasting Room. Because the horses can jump the boards during play, be sure to set up a safe distance from the fieldside boards (at least 30 feet). For your convenience, portable restrooms are located behind the scoreboard and on the south end of the field.
King Family Vineyards wine will be for sale field-side. Flag down the golf cart circling the field during the match to purchase wine, bottled water, and Roseland Polo hats. All major credit cards accepted.
Due to ABC laws, NO ALCOHOL other than King Family wine is permitted onsite. Our staff is required by law to prevent the consumption of other alcoholic beverages. Those who violate this policy put Sunday polo matches in jeopardy.
ALL dogs must be on a leash at all times. Watch the match at all times as the ball, and horses, come over the boards during play. Exercise extreme caution when crossing the goal lines at either end of the field.
To learn more about polo in our area, please visit the Virginia Polo Center website.